How do you celebrate the Christmas holiday? Is it possible to have a great time and still keep sustainability in mind? I asked people at the Transition Cambridge winter social what they do and this is what they said. Food, presents and the tree were the main topics: here is a miscellany of answers, including a discussion of whether or not brussels sprouts contribute to climate change and how to mitigate the problem of discarded Christmas jumpers.
A venerable tree, with modern LED lights and some presents wrapped in reusable furoshiki cloths
Vegetarian food
Quite a lot of us are vegetarian and put on a special vegetarian meal. This can be an impressive dish such as
walnut pate en croute
(cheating on the pastry by buying ready rolled makes this less of a stress) or it can just be a household favourite, such as Mexican style refried beans or pizza.
If you are a guest in a family with only a few vegetarians you may be given plainer fare - even ready meals from the supermarket! However, at least you get to spend time with your relatives that you don't see often.
I gather vegan Christmas Cake can be very nice.
Traditional dinners
If you aren't vegetarian, you can take comfort from the fact that turkey and other poultry are much kinder to the planet than beef and lamb. Plus the traditional Christmas veg like brussels sprouts, potatoes and parsnips are all grown in the UK so you should be able to minimise your food miles.
One lady, who presumably does not like brussels sprouts, told me that avoiding them was good for the planet because they tend to give people wind and hence produce methane. I'm afraid this is only slightly true: human wind is mainly hydrogen. (In
this study
only 3 out of 10 volunteers produced methane and even then only small amounts.) Ruminants like cows and sheep produce large quantities of methane but that is because of their special digestion. I don't see why anyone should be forced to eat brussels sprouts but if you do like them you can rest easy that you are not contributing extra global warming.
Real tree or plastic
Some people go for a real tree and keep it from one year to the next where possible. Transplanting from pot to ground and back again is a bit of a chore but apparently trees can survive in pots for a while: at least three Christmases, from experience, but then it will be rather pot bound. Some people don't use a tree as such but bring in other greenery. A bough from a twisted willow is interesting in shape and ideal for decoration.
Twisted willow with decorations
If you need to discard a tree, make sure it doesn't rot in landfill. Girton is running a
tree shredding event and repair cafe
on Sunday 7th Jan and
Arthur Rank Hospice Charity is running a tree collection service
: for a donation they will collect your tree on 5th or 6th Jan and take it to Amey for composting.
I have a plastic tree which is now in its 20th year. When you keep it this long, the carbon emissions amortised over time are fairly negligible.
Decorations
Everyone I spoke to has LED lights on the tree now but other decorations vary; some are vintage, dating back to the 1960s or even earlier. New can be nice but old things have special personal value.
Cards.
Christmas cards are a large part of the paper waste at Christmas. Each one is small but they add up. Some people avoid sending Christmas cards by using e-cards or email instead. Some people cut down on cards by only sending them to people they won't see in person. Cards are valued more if they come with news or a personal message.
When you choose cards, try to make sure they are plain card so easy to recycle. Avoid glittery ones - and the same goes for wrapping paper.
Presents.
Home made chutney and fruit preserves make great sustainable gifts, especially when you use ingredients that you don't often see in the shops. Quince jelly is a real treat. Of course you need to have made the chutney already when the fruit was in season. If you didn't make any this autumn, make a note for next year. (In my experience making jelly takes little effort but requires some skill while making chutney is very easy but somewhat time consuming.)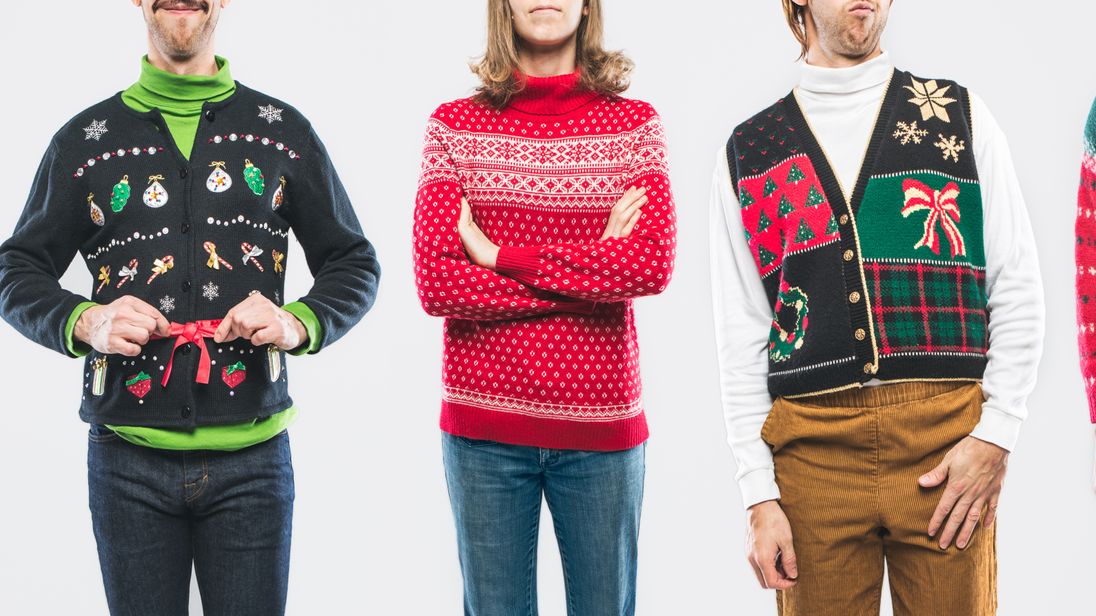 Christmas Jumpers are too good to waste. From Sky News.
We have heard recently that
many people buy a new Christmas Jumper every year
. This is a fearful waste. If you don't want to keep your Christmas jumper for next year, please don't throw it in the bin. We have at least one Transition member who intends to scour the charity shops in the New Year for discarded jumpers.
Wrapping paper is another sad waste at Christmas. Some people use pretty material instead - this can be reused many times. In Japan they call the cloths
furoshiki
. However, from my experience this tactic only works for small presents. For large items you need very large pieces of cloth!
I wish you all an enjoyable, heart warming and planet-friendly Christmas!